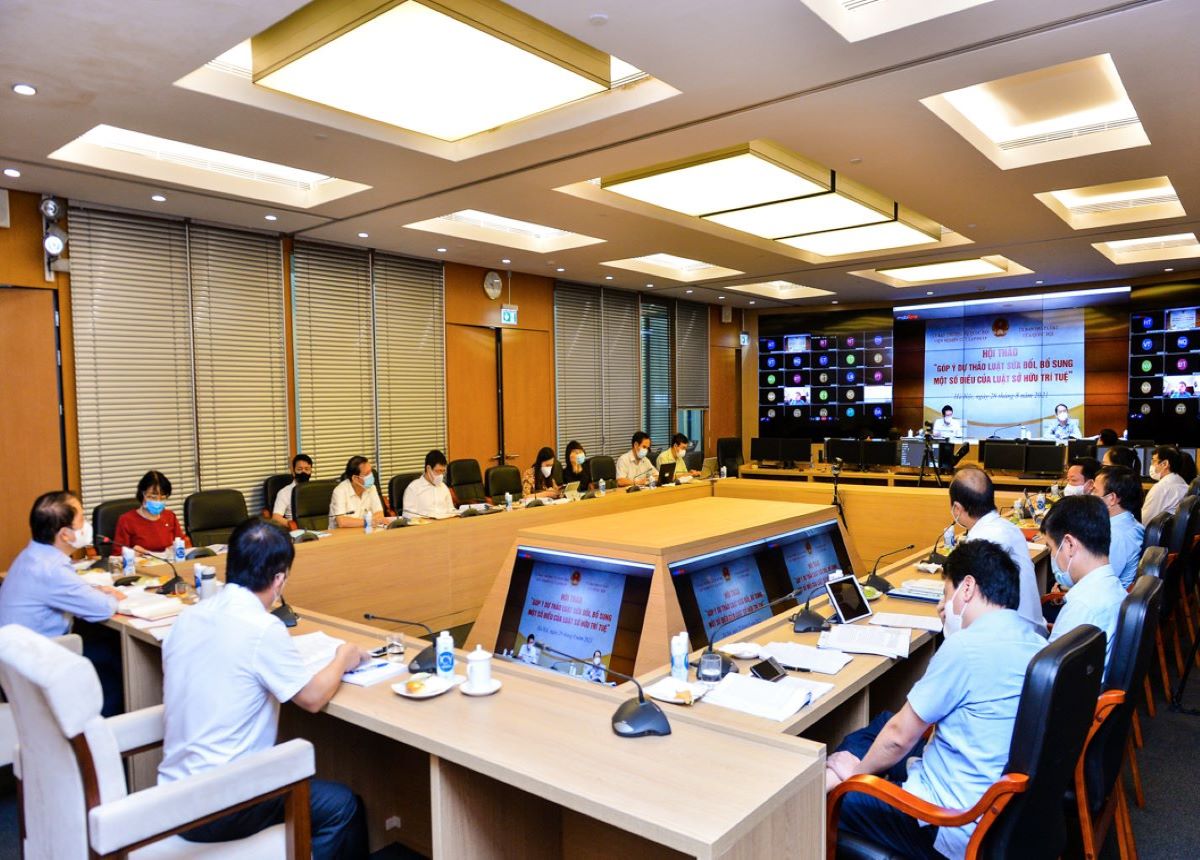 The Draft Law focuses on 7 main groups of content:
To ensure clear regulations on author, copyright owner, performers, and related rights holders in cases of assignment or licensing of copyrights, related rights: Provisions relating to determine the owner of property rights (owner, author, performer) will be more coherently and specifically clarified to facilitate the process of assignment and licensing of copyrights and related rights;
To encourage creation, exploitation and dissemination of inventions, industrial designs and layout designs funded from the State budget: Provisions relating to determine ownership rights and rights to utilize from inventions, industrial designs, layout designs that are resulted from scientific research funded by state budget will be more specified and detailed with the aim to encourage transforming research results into protected IP assets, creating a premise for a more effectively commercial exploitation of these assets in the market;
To facilitate the process of registration of copyrights, related rights and industrial property rights: In general, the proposed amendments will facilitate IP protection registration due to simpler, faster, more convenient and more transparent procedures; online registration regulations are also supplemented to be compatible with the Government's roadmap of providing online public services etc.;
To ensure an adequate and balanced level of IP right protection between the benefits of the right holders and rights of the public to use and access knowledge and technology: Proposed amendments will focus on handling issues related to the right to access works, phonograms, video recordings, and broadcasts; rationalizing patent protection mechanism; providing additional bases to patent and trademark cancelation; rationalizing the protection of plant variety rights (balancing breeders' rights and farmers' rights in keeping harvested materials);
To enhance the effectiveness of supporting activities on IP (including representation and assessment activities): Proposed amendments will focus on clearer responsibility, more specific and detailed scope of operations, and eliminating a number of operation conditions to comply with the country's general administrative procedure reform;
To improve the effectiveness of IP enforcement activities: Proposed amendments will focus on solving shortcomings related to measures to handle infringements of IP rights to ensure a more effective, rational and feasible IP enforcement mechanism; improving regulations on IP rights enforcement in the digital environment; amending and supplementing a number of provisions related to the scope of border control methods for import and export goods;
To ensure an appropriate and strict implementation of Vietnam's international commitments on IP protection: Proposed amendments will focus on existing provisions in the IP Law which are not fully compatible with the commitments in newly-signed FTAs (such as the protection of test data for agrochemicals; jurisdiction of customs authorities in border control, etc.); or the missing provisions needed to supplement to comply with international commitments (such as sound trademark protection; compensation mechanism for patent owners of pharmaceutical products due to unreasonable delay in marketing authorization procedure, etc.).
At the 2nd session of the 15th National Assembly, the Draft Law on Intellectual Property was discussed and discussed for opinions of the National Assembly deputies.
At the discussion session, the National Assembly deputies basically agreed with the draft Law amending and supplementing a number of articles of the Intellectual Property Law on the basis of inheriting advantages, overcoming limitations and supplementing other articles. , appropriate clauses, meeting the development requirements of the country and international integration.
Many delegates proposed to keep the current law's provisions on applying administrative sanctions for acts of infringing upon intellectual property rights. However, it is necessary to add sanctions related to the delay in granting protection titles and protecting property rights.
Commenting on protection titles, some National Assembly deputies said that the provisions on protection titles were still general and did not clearly show information about the technical status of the protected object (inventions, designs, etc.) industrial design). This leads to the fact that the public does not have access to information about the history of establishing the rights of the protected object and the basis (control) for the protection of inventions and industrial designs.
In addition, some comments said that it is necessary to clearly regulate the case of inventions, industrial designs, layout designs with many organizations and individuals as co-authors; regulations in the direction of determining the right of registration and ownership based on the capital contribution ratio according to the research investment contract…
Regarding complaints and settlement of complaints related to industrial property procedures, some suggested that it is necessary to set a time limit for complaint settlement in accordance with the law on complaints.
The draft IP Law is currently being completed to be submitted to the National Assembly for further discussion and approval at the 3rd session of the National Assembly in May 2022.
Intellectual property was approved by the National Assembly in 2005 (Law No. 50/2005/QH11), effective from July 1, 2006, as amended and supplemented in 2009 (Law No. 36/2009/QH12). ) and 2019 (Law No. 42/2019/QH14). However, the practice of more than 10 years of implementation, along with Vietnam's extensive international integration in recent years, shows that the Law still has a number of certain problems and inadequacies that need to be amended and supplemented in order to meet the requirements of practice, the requirements of administrative procedure reform as well as to ensure the implementation of IP commitments in the FTAs ​​that Vietnam has been negotiating or signed.
(Source: www.most.gov.vn và hcmcpv.org.vn)